[BIO] [CONTACT] [ARTICLES]
Logan For City Council
---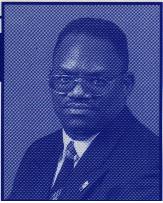 ---

As a candidate for Detroit City Council, I am writing to introduce myself and share with you my commitment to this position and the citizens of Detroit. As a product of the Detroit Public School System, I hold a Bachelors degree from Madonna University and a Masters from Eastern Michigan University. Upon leaving the Detroit Public School System, I immediately joined the Armed Forces, serving in Vietnam during 1968. After military duty, I gained employment with the Detroit Police Department where I have remained for 32 years, currently serving as Commanding Officer of the 7th Precinct.

I have acquired a long history of community service and dedication to the city where I was born, educated, married, raised a family of (4) children, and resided my entire life, except during military duty. Having been baptized at an early age, I was raised in the church and acknowledge and conduct my life in a manner consistent with my Christian faith. My church home is Annunciation/Our Lady of Sorrows Catholic Church, located on the east side of Detroit, where I worship, live and work. I am currently a member of (2) labor unions and share the interest and concerns that have made the union movement what it is today. These qualifications and my dedication to the improvement of the quality of life for our citizen's makes me uniquely qualified for the position I am seeking.

Our great city has undergone numerous changes over the past years, some of which have begun to positively impact our urban status and financial situation. Nonetheless, there is a continued need for improving city services, which individuals not only expect but also deserve. These services include but are not limited to garbage pickup, rehabilitation of vacant buildings, improved emergency services (fire, police and EMS), addressing the increasing issue of the homeless, revamping the city tax structure, expanding health services, educating and caring for our youth and seniors, etc. As a City Council member, there is an obvious need to be more co-operational and less confrontational in terms of "doing the right thing for the City". My pledge is to diligently strive to earn the respect and support of our community, as work together for a common cause and "share the vision".



---

Webmaster: Rachel Dorn [dornrach@hotmail.com]